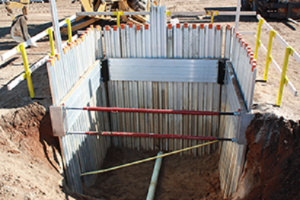 We would like to recognize June as Trench Safety Month with this article from GME Trenching. GME Trenching has been a leader in trench shields & shoring equipment since 1960. They monitor trenching accidents to get insight into the industry and monitor regulatory activity in the wake of excavation mishaps. Not all accidents can be avoided, but here are the most common mistakes seen on the job site.
Avoid these 4 mistakes to prevent trenching accidents:
Not Doing the Homework – dig through regulations and guidelines before starting project so you have the right knowledge & equipment.
Underestimating or Misjudging Ground Conditions – They will dictate how you treat a job and what to be wary of for potential dangers.
Utilizing the Wrong Equipment or the Right Equipment the Wrong Way – Using equipment the way it was designed will help minimize risks.
Ignoring the Risks – Going into the job with a healthy mindset will help you remain incident free.
By Brad Tom

To read the complete article visit the GME Trenching blog