For MUTCD definitions on channelizing devices:
Section 6F.68 Type 1, 2, or 3 Barricades
Support:
15 Type 1 or Type 2 Barricades are intended for use in situations where road user flow is maintained through the TTC (Temporary Traffic Control) zone.
Option:
16 Barricades may be used alone or in groups to mark a specific condition or they may be used in a series for channelizing road users.
17 Type 1 Barricades may be used on conventional roads or urban streets.
Guidance:
18 Type 2 or Type 3 Barricades should be used on freeways and expressways or other high-speed roadways. Type 3 Barricades should be used to close or partially close a road.
Option:
19 Type 3 Barricades used at a road closure may be placed completely across a roadway or from curb to curb.
Guidance:
20 Where provision is made for access of authorized equipment and vehicles, the responsibility for Type 3 Barricades should be assigned to a person who will provide proper closure at the end of each work day.
Support:
21 When a highway is legally closed but access must still be allowed for local road users, barricades usually are not extended completely across the roadway.
Standard:
22 A sign shall be installed with the appropriate legend concerning permissible use by local road users (see Section 6F.09). Adequate visibility of the barricades from both directions shall be provided.
Option:
23 Signs may be installed on barricades (see Section 6F.03).
Section 6F.63 Channelizing Devices
Standard:
01 Designs of various channelizing devices shall be as shown in Figure 6F–7. All channelizing devices shall be crashworthy.
Figure 6F-7 Channelizing Devices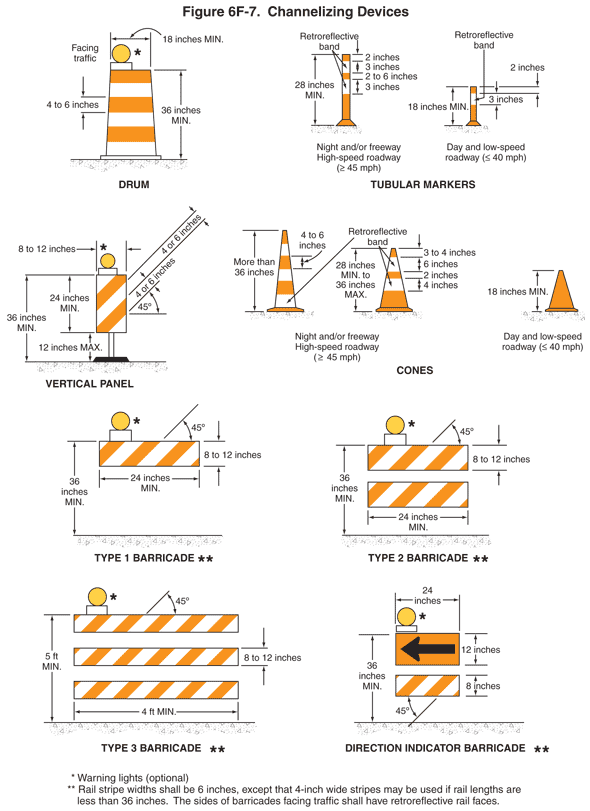 Thumbnail image of Figure 6F-7
For information on this and all MUTCD regulations go here