500 Series Linear Super-LED® Lightheads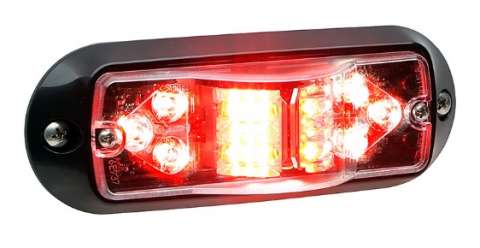 LINEAR-LED:
Small size fits anywhere on the vehicle with a wide variety of mounting options. Also available in surface mount model that requires no mounting option.
V-SERIES:
V-Series lighthead with combination warning, flood/alley and ground illumination (puddle light), all individually operated.
Single color models have combination 180° and TIR directional warning. Surface mount.
LINEAR-LED FEATURES:
Brighter and more effective at wide angles than ever before.
Rated for thousands of hours of low current, operation.
Exceed SAE specifications.
Five year warranty.
Mounting options are purchased separately
Size: 2-1/8" (54mm) H x 1-5/8" (42mm) D x 5-3/8" (137mm) L
500 V-SERIES™ FEATURES:
Three-in-one combination light for warning, flood/alley and ground illumination in one remarkably compact surface mount lighthead.
Single color models have combination 180° and TIR directional warning.
180° wide-angle warning light for Class I SAE 845 requirements.
Color LEDs with clear outer lens.
Hard-coated lenses with HDO™ technology for unmatched high intensity warning.
25 Scan-Lock™ flash patterns plus steady-burn and synchronize feature for the warning segment of this lighthead.
Six inch pigtail with sync wire allows up to eight lightheads to be synchronized together for the warning segment of the lighthead
Warning available in Red, Amber, Blue and White.
Steady-burn White for alley/flood lighting plus White ground illumination.
Requires optional mounting kit, purchased separately.
Five year warranty.
Size: 2-1/8" (54mm) H x 1-5/8" (42mm) D x 5-3/8" (137mm) L
Linear-LED (lens size only):
1-5/8" (41mm) x 5" (127mm) W
Amp Draw @ 12 VDC: 1 Amp peak/ .40 Amp average
Size: 2-1/8" (54mm) H x 1-5/8" (42mm) D x 5-3/8" (137mm) L
V-Series:
Amp Draw @ 12 VDC: Warning/.12A,
Flood/1.0A, Puddle/.5A.
Single color Amp Draw @ 12 VDC: 1.5A/peak, 0.6A/average
Size: 2-1/8" (54mm) H x 1-5/8" (42mm) D x 5-3/8" (137mm) L