4" Round Super-LED® Lightheads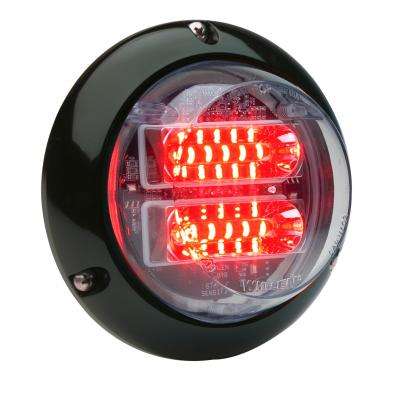 Heavy-duty 4" round PAR32 surface mount, wide angle LED's with redesigned spreader optic lenses fill the lighthead evenly with light, rivaling strobe in intensity but with all the advantages of LED's.
FEATURES
4" Round extended lens lighthead has two LINZ6 type reflectors.
31 Scan-Lock™ flash patterns and steady-burn.
Single and split color capable.
Interleaved lightheads offer two colors in a single lighthead with white light in driving light mode and warning mode offered in single color or split colors.
Synchronize flash pattern for simultaneous or alternating pattern with other Whelen synchronizable products.
Clear shatter resistant extended lens for maximum light output.
6" pigtail connectors, standard.
Rugged LEDs draw low current and provide long life reliability.
Available in four safety colors.
Fog light models fits Dodge Durango, Chevy Tahoe, and Ford Expedition.
4" ROUND FLAT LENS FEATURES
Heavy-duty Surface mount Super-LED with adapter for PAR-36 applications.
18 Scan-Lock flash patterns each with Phase 1 and Phase 2 and steady-burn with synchronize feature (for simultaneous or alternation flashing lights).
Four safety colors: red, blue, amber or white.
TIR6 light technology.
SPECIFICATIONS
Size: 4-1/4" (108mm) Dia. x 1-3/16" (30mm) Depth.