3" Round Super-LED® Lightheads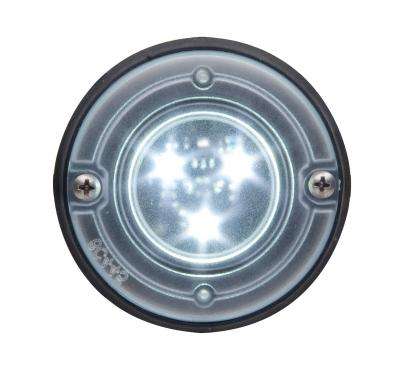 Here's a versatile LED lighthead ideal for compartment and step lighting, nighttime illumination, auxiliary warning and wherever additional lighting is required but space is limited.
FEATURES
Three Super-LED diodes in an aluminum housing, steady-burn, white illumination and flashing.
Versatile 3" overall diameter and extremely narrow depth allow you to mount this bright lighthead where larger, bulky products would be a problem.
Surface mounted for ease of installation and no body cutouts on vehicle. A small wire access hole and two mounting holes are all that is required.
Moisture and vibration resistant for reliable, long life service.
Six Super-LED split red or white with independent
Control of red and white light.
Three red Super-LEDs are ideal for increased night vision in passenger compartments.
LEDs are rated for 100,000 hours of operation.
Optional chrome flange kit available.
Optional grommet mount, requires 3-5/16" hole cutout.
SPECIFICATIONS
Draws 0.3 Amps at 12.8 VDC.
275 lumens light output.