0S Marker/Clearance, Illumination and Flashing LED Series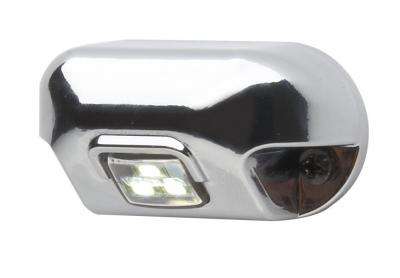 The small solution and versatile answer for putting LED lighting virtually anywhere on your vehicle!
FEATURES
Small oval LED lighthead with chrome housing and clear lens. Available in flashing or steady-burn auxiliary warning, white illumination, and marker/clearance. Add a remote LED flasher to the steady-burn warning model and choose up to 60 flash patterns.
This light is small enough to tuck just about anywhere you need additional warning or illumination. 45° angled bezel model illuminates step surfaces for a sure step every time. Extreme low amp draw lets you add as many as you want.
Warning models contain four bright LEDs and are available in two versions; flashing or steady-burn.
Warning models are available in red, amber, white, and blue.
Red warning certified to SAE J595, SAE J845 and Class 3. Amber and blue warning certified to SAE J845.
Steady-burn warning requires an external LED flasher, purchased separately.
White Illumination has single Super-LED® diode. Available with standard or 45° angled housing for surface or step lighting; certified to NFPA 13.10.3 surface lighting.
Marker/clearance light available in red and amber, and certified to SAE J592.
All models include chrome plated flange and mounting gasket.
Surface mount.
Encapsulated for moisture and vibration resistance.
Includes 6" wire leads.
5 year HDP® Heavy-Duty Professional warranty.
SPECIFICATIONS
1" (25mm) H x 1/2" (13mm) D x 1-1/2" (38mm) L.
0AC0EDCR: 1" (25mm) H x 7/8" (21mm) D x 1-7/8 (48mm) L.
Extremely low .30mA (avg) amp draw.