Runway Closure Marker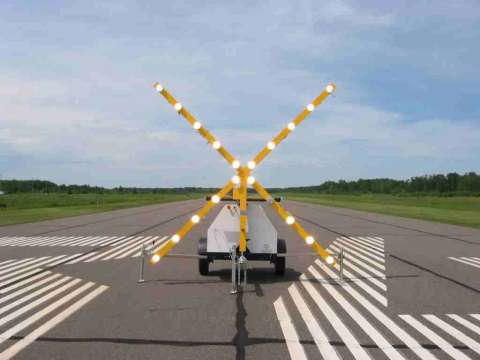 ,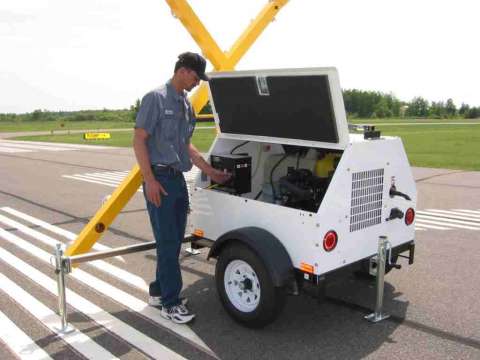 ,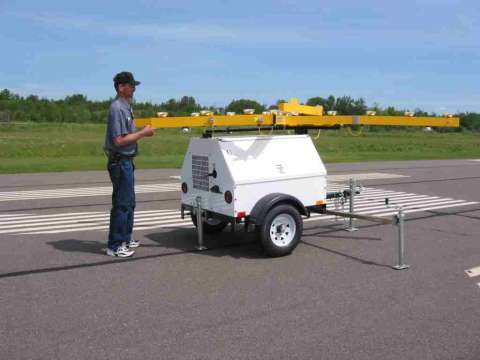 ,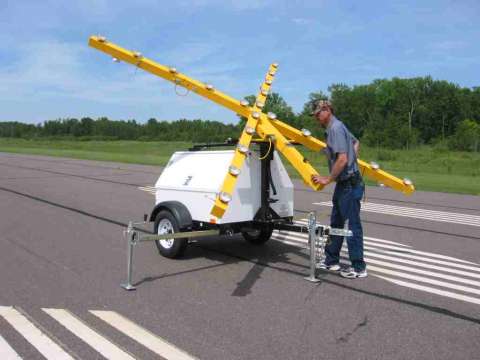 A runway closure signal that efficiently warns pilots of closed airport runways and taxiways, and protects maintenance crews working in these areas. The adjustable brightness allows this system to give a warning that is visible 10-25 miles away.
Features:
Easily set up by one person in 2-3 minutes, withouttools
3 year/3000 hour engine warranty
Four folding arms open to 14 foot length
20 PAR lamps deliver over 170,000 candelas at beamcenter
Visible 10-25 miles from runway under VFR
Selectable brightness levels to suit environmentalconditions
Photocell dimming for night operation
Four rear-mounted lamps allow visual monitoringfrom rear side
Powered by a three-cylinder, liquid cooled Mitsubishidiesel engine and Marathon brushless generator
Operates 140 hours between fuel fills
Highway towable, with a standard 2" hitch coupler
2200 pound, DOT compliant trailer
4 swivel leveling jacks
Adjustable light beam angle
Optional rear hitch, allows tandem towing of 2 units
Compliance with Standards:
ETL Certified to FAA AC 150/5345-55 latest revisionwith FAA AC 150/5370-2 and NTSB Safety Recommendation A-03-05
Light Assembly Specifications:
Arm length 14 feet when operating
Hinged to generator housing, swings upright for use,swings to horizontal position when stowed
Assembly arms fold to a 5'x5' square for transportand storage
Arms constructed of 4"x4" extruded aluminum, withyellow epoxy powder-coat paint.
Twenty halogen lamps mounted in front,plus 4 monitor lamps in rear, 24 total
PAR 38 halogen lamp, 25 degree beamwidth, ratedlife 4200 hours
Lamps flash 2.5 seconds on, 2.5 seconds off
Solid-state flasher, no mechanical contacts
Photocell automatically reduces intensity at night
2-year warranty on light assembly, excluding lamps
Trailer Specifications:
2200 pound axle
2" ball or optional pintle hitch, safety chains
Four 2000 lb. leveling jacks. Side jacks are onextendable 38" outriggers
DOT-compliant tail and marker lights
Tires - ST175/80 D13, highway-rated
All steel tubing construction
Width: 67 inches
Length: 105 inches
Height: 64 inches
Total wet weight 1600 lbs.
Engine and Generator Specifications:
Engine: Mitsubishi L3E Diesel, 12.7 hp, 3-cylinder,liquid-cooled, 4-stroke, 1800 RPM, electric start
Engine Warranty:2 years/2000 hours on entireengine, 3 years/3000 hours on major components
Glow plugs and elapsed hour meter
Low oil/high temperature auto-shutdown
Generator: Marathon Electric, 6.0 kW, 120 VAC,4-pole, brushless
Fuel tank capacity 57 gal., consumption 0.4 gph,140 hour runtime