Traffic Advisor™ Accessories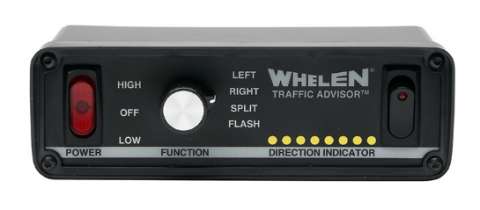 The TACTLD Series Control Head features a four-function rotary switch that allows the user to select from left arrow, right arrow, split arrow, or flash pattern. Dip switches on the rear panel determine which of the following patterns will be displayed when "flash" is selected.
One Lamp Sequence to CometFlash® w/Flicker
Sequence ON / Sequence w/Flicker
Remote Flash Control is the new feature on the TACTLD1.This allows for the remote activation of the flash function when the T/A head is off. Turning on the control head overrides the auxiliary control. This is ideal for activation with a slide switch control. A Center-Off Rocker Switch is used to turn the unit On and Off, in either High or Low power mode. The TACTLD has an LED status display that provides a visual indication of the current light pattern.