Stacker Sign Stand (#DSB100)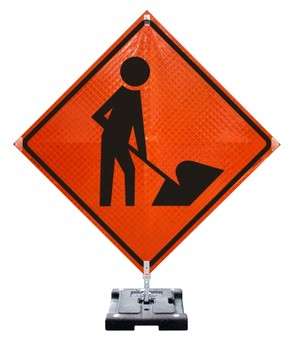 ,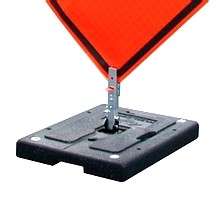 Low profile rubber base design is ideal for limited storage or display areas.
Recessed trim molded into rubber base allows for firm, compact storage.
Two molded handles allow for easy transport to and from the work zone.
Pocket panel holder clamps roll-up sign to stand utilizing the plastic pocket on the sign panel. Also available with the universal ScrewLock™ sign holder.
Mast folds down into rubber base via kick release for storage.
Available in two weights: #DSB100 - 42 lbs., #DSB100HD - 48 lbs.
Size: 3" tall x 20" wide x 28" long.
#DSB100 - Pocket Sign Holder
#DSB100-W -ScrewLock Sign Holder
#DSB100HD - Pocket Sign Holder
#DSB100HD-W - ScrewLock Sign Holder