Radar-Speed Trailer for Law Enforcement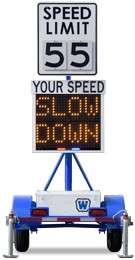 WSDT3-SPD
The new Wanco radar-speed trailer for law enforcement has the largest portable speed sign available today. With changeable speed limit indication and radar-triggered speed display, the radar-speed trailer instructs motorists to slow down by flashing their excessive speed.
Details
Commonly deployed in school zones, neighborhoods and high-accident areas, numerous options provide a strong measure of traffic calming unmatched by other roadway signs. The Wanco radar-speed trailer features a changeable speed limit sign above an electronic display.
Wanco engineers designed the new full-matrix display to be the largest, most visible display on the market. The compact, portable trailer is suitable for use in neighborhoods as well as major roads with heavy traffic.
When a motorist exceeds the speed limit, the display flashes the vehicle's speed. For excessive speed, a selectable overspeed message flashes slow down or a frowning face symbol, together with optional flashing red-and-blue "police" lights that attract attention.
Factory-configured units show motorists' speed in mph (one or two digits) or km/h (up to three digits — see international model).
A regulatory sign above the display features changeable speed-limit numbers for easy setup in any speed zone.
The speed-limit sign and electronic display rotate to face traffic. The display's LEDs have visors and shades that produce superior angularity and visibility.
The trailer's see-through design puts pedestrians in view, improving their safety—particularly in dangerous, high-risk areas. The solar powered battery-charging system provides longer run times.
Features
Extra-large full-matrix display
Optical lenses and sun shades over 26-inch LED characters
Selectable speed-limit setting
Clearly displays speed in mph (one or two digits) or km/h (up to three digits —see international model)
Software-controlled selection of speed units, mph or km/h
24x30-inch regulatory speed-limit sign included, other sizes available
Regulatory sign has changeable speed-limit numbers
Approach-only K-band radar measures speeds from 5 to 150 mph (8 to 240 km/h), at a distance of up to 1500 feet (450 meters)
Radar unit is CE compliant, FCC approved
Extended height increases visibility
Streamlined see-through design
Compact and easily portable, 5-minute setup
Under 900 pounds (400kg), can be towed by most vehicles
Drawbar can be removed for added security and smaller footprint
Standard 2-inch ball coupler tow-hitch
Regulatory speed-limit sign
Battery powered & solar charging
Locking control box and battery compartment