QUADGUARD® ELITE CRASH CUSHION SYSTEM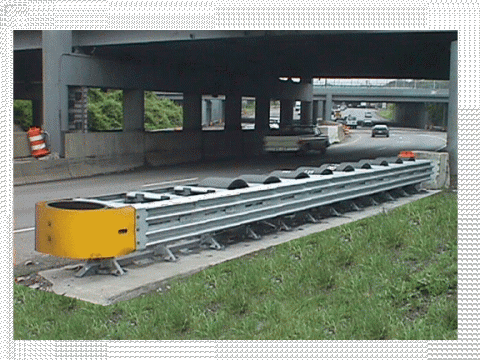 The QuadGuard Elite System offers the added value of reusable cylinders for applications with above average impact frequency. The system meets NCHRP 350, Test Levels 2 and 3 as a redirective, nongating crash cushion.
The QuadGuard Elite System's cylinders are made of high density polyethylene plastic (HDPE), a material that can with-stand multiple impacts before requiring replacement. After a typical design impact, the system is 99% to 100% reusable.
A member of the QuadGuard Family, the QuadGuard Elite System utilizes many of the same components as the familiar QuadGuard System.
NCHRP 350
Non-gating, redirective crash cushion system
Performs effectively with both light cars and high center-of - gravity pickup trucks
Meets TL-2 (70 km/h / 43 mph) and TL-3 (100 km/h / 62 mph)
Angles up to 20°
Head-On Impacts
During head-on impacts, the QuadGuard® Elite crash cushion system telescopes rearward, crushing the reusable cylinders to absorb the energy of impact.
Redirective Capability
When impacted from the side, QuadGuard® Elite redirects the errant vehicle back toward its original travel path without allowing gating.
Reusable Cylinders
Reusable cylinders provide one of the lowest lifecycle costs of any attenuator.
Quad-Beam™ Panels
Quad-Beam™ panels provide 30% higher beam strength than thrie beam. Quad-Beam™ panels also protect the reusable cylinders and reduce rebound velocity.
Monorail Base
Monorail base eliminates the need for chains and cables providing excellent redirective capability.
Flex-Belt Nose
Flex-Belt Nose is reusable after most impacts.
Protects Wide Range Hazards
Hazards from 610 mm (24 in.) to 2.3 m (90 in.) can be effectively shielded. Available in 610 mm (24 in.), 750 mm (30 in.), 910 mm (36 in.), 1.75 m (69 in.) and 2.3 m (90 in.) widths.
Self-Restoring Crash Cushion System
QuadGuard® Elite will self-restore after many, but not all, design impacts.