Portable Light Towers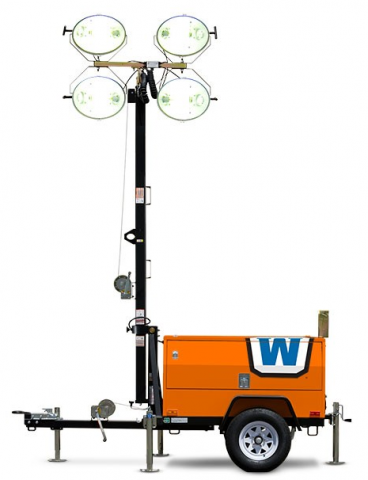 WLTC
Not just another light tower, Wanco light towers use state-of-the-art technology to achieve superior illumination — exceeding government regulations for worksite illumination. With four 1000-watt light fixtures atop a 30-foot variable-height mast, Wanco light towers shine a uniform light pattern across the entire job site.
Details
Light fixtures
The Wanco Light Tower's high-output fixtures provide the most illumination for the wattage and a more uniform light pattern, virtually eliminating light pollution. For faster job-site setup and less downtime, each light fixture can be aimed independently without the use of tools, and the lights stay in place once positioned.
Light tower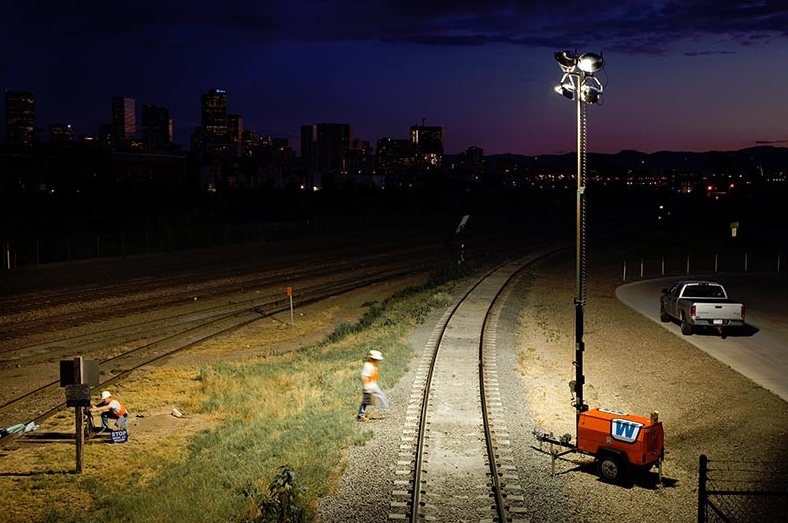 The telescoping tower assembly is reinforced for stability and safety. Two winches raise and extend the mast, with both power- and hand-operated winches available. The light tower mast rotates 360 degrees, and the lights can be operated at any height, eliminating the need to move the trailer frequently.
Power system
The power system includes a choice of low-RPM Tier 4 diesel engines and high-quality four-pole generators. A 30-gallon fuel tank provides extended run times of 60 to 70 hours between refueling, depending on environmental influences. The translucent polyethylene tank offers an instant view of fuel level, eliminating the need for a fuel gauge.
Serviceability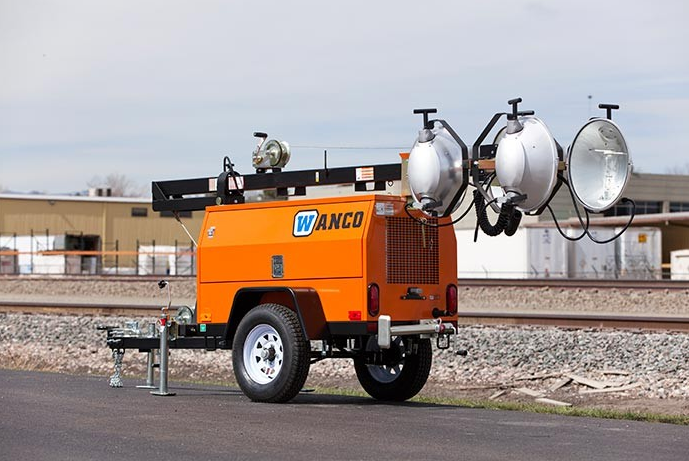 Wanco has created a unique innovation that greatly improves serviceability. For complete access to the engine, generator and electrical components, Wanco light towers feature a hinged top panel that rises with the mast when maintenance is required. No other light tower makes engine access this easy. The gull-wing side doors may be opened while the maintenance panel is raised, further enhancing access.
Features
High-efficiency light fixtures provide uniform light pattern
Durable fixtures resist shock and last longer
Unique lamp design increases filament life and keeps maximum light on the job longer, increasing productivity while saving time and money
Rotating tower allows 360 degree rotation, reducing the need to frequently move the light tower trailer
Compact design with removable tow bar allows efficient transport and storage
Lockable, weather-resistant, steel cabinet protects components from the elements
Two outriggers and four leveling jacks provide stability
Control panel features elapsed hour meter, 120-volt GFCI receptacle for powering external equipment, and circuit breakers for on/off functionality and protection
Tier 4i diesel engine includes glow-plug preheat system for improved cold-weather starting
Automatic engine shutdown system protects engine from damage due to low oil pressure and high coolant temperature
Exclusive hinged top panel provides unimpeded access to engine, generator and electrical components
Fuel capacity of 30 gallons provides extended run times of 60 to 70 hours between refueling, depending on environmental influences
Translucent polyethylene fuel tank provides instant view of fuel level, eliminating the need for a fuel gauge
Options
Engine
Output frequency
Specifications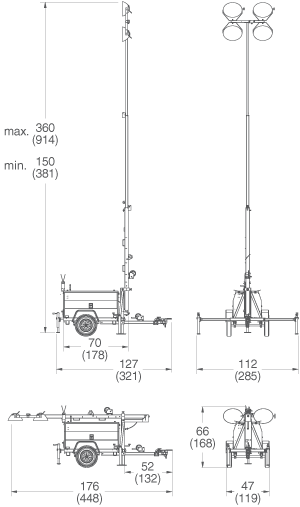 Operating weight- approx. 1800 lbs (815 kg)
Construction
Trailer- MIG welded, unibody-style
Finish- oven-baked powder coating
Tow hitch- Combo-hitch for 2 inch ball or 2 1/2 inch pintle hook
Tires- ST175/80 D13
Lights
Lamps- Four metal halide
Wattage- 1000 W per lamp
Luminosity- 0.5 fc @ 7.5 acres (5.4 lm/m2 @ 30400 m2)
Output power
Output- kW
Voltage- 120 V or 240 V*
Amperage- 50 A @ 120 V, 25 A @ 240 V
Frequency- 60 Hz or 50 Hz*
Voltage regulation- +/- 5%, no load to full load
Power system
Engine type- 3 cylinder, 4 cycle, liquid-cooled diesel
Engine Speed- 1800 rpm
Generator type- Brushless
Generator inslation- H
Generator wattage- 6 or 8 kW*
Battery- 12 V dc, 550 CCA
Maximum power output- 12.1 or 13.6 hp 9( or 10 kW)*
Displacement- 56 of 68 cu. in. (916 or 1123cm3)*
Sound level at maximum load- 71 dB at 23 feet (7m)
Fuel tank capacity- 30 gal. (114L)
Fuel consumption0.44 gal/hr (1.67L/h)
Runtime before refueling- 60 to 70 hrs, approx.
*depending on model