Poly Acid-Corrosive Safety Storage Cabinet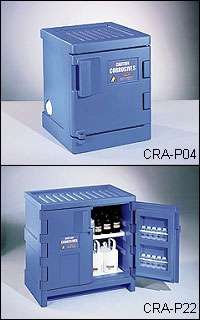 EAGLE Poly Acid/Corrosive Safety Cabinet
Eagle's new non-metallic "Poly Acid Cabinets" are constructed of 100% polyethylene for excellent resistance to harmful acid vapors and spills, making these cabinets suitable for use with sulphuric, hydrochloric and nitric acids.
These cabinets are available in 4-gallon Benchtop and 22-gallon Under-Counter Storage. Both sizes feature internal and top sump capacities of at least 1 gallon, adjustable poly shelves, storage for smaller containers in the doors, lockable doors and two 2-inch poly vents with caps. The cabinets are available in flat blue with a smooth finish for ease of cleaning.
Also available with a white finish.
New 44 gallon model CRA-P44 available now.
EAGLE Poly Acid/Corrosive Cabinets with Flat Blue Finish
Model
Capacity
Door Specs
Shelves
Size (WxDxH)
Weight
CRA-P04
4 gal.
1 Manual Closing
1
18" x 18" x 22"
35 lbs.
CRA-P22
22 gal.
2 Manual Closing
2
35" x 22" x 36"
95 lbs.
CRA-P44
44 gal.
4 Manual Closing
8
35" x 22" x 65"
130 lbs.