Mud-Traks Ground Protection Mat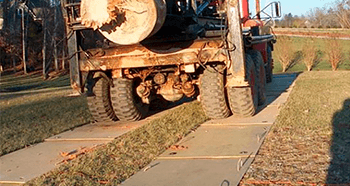 Mud-Traks® delivers the strength, durability, and longevity needed to get through the harshest terrain and is ideal for use in the heavy construction, civil engineering, transmission, utilities, and oil & gas industries.
These mats are designed as a solid composite fiberglass grid structure that channels tire load throughout the mat providing an impressive load-bearing capacity of up to 100,000 lbs*. Mud-Traks® has an aggressive diamond tread surface on both sides providing optimal grip and forward motion of vehicles. The mats are off-white in color which keeps the mats cool in the heat, this means that they will minimize damage to the grass.
With rope handles, the mats are easily man-deployed and connector options are available using drop-in steel bolt connectors for fast installation.
*Load bearing capacity is subject to ground conditions. Sizing is subject to a manufacturing variance of +/- 5%.
---