Maxi-Lite® ML 15 / ML 20 V Series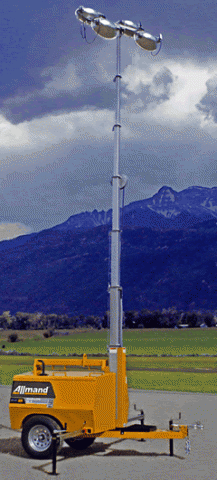 ,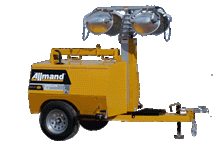 Engine
Isuzu 4LE1 or CAT C2.2 liquid cooled diesel with 12v electric start

Fuel: Diesel

Fuel capacity: 50 US gallon (up to 100 hrs. of continuous operation)

Fuel Consuption: approximately .5 gph with four lights operating, up to approximately 1.5 gph at full generator load.
Low oil pressure, high temperature automatic shutoff, heater plug cold start system
Stabilizers
Four-point outrigger design

Tower center-mounted between two retractable side outriggers, tongue jack, and rear jack

Remains operational in winds up to 65 mph (104.5 kph)
Lighting
4-1250 watt SHO-HD metal halide fixtures

Initial output of 150,000 lumens per lamp
Tower
Hydraulically-actuated 25' 6" heavy-duty seven-section vertical tower with UHMW nylon guide blocks for smooth operation. Intuitive lamp positioning allows accurate lamp adjustment before extending tower. Tower extends from it's stowed position to full extension in only 20 seconds!
Trailer
Frame: Formed, welded steel

Adjustable height combination two inch ball coupler-three inch pintle towing hitch

Enclosure: Heavy-duty with 10-gauge side

panels and 12-gauge hood

Doors: Lockable lift-up access

Front panels: Painted or coated steel

Stop / Turn / Tail Lights

Forklift pockets and Tie Down Rings: standard
Electrical
Alternator: 60 Hz, 1 phase

Circuits: Hard-wired electrical

Ballast: Easily serviceable, "componentized" assemblies

1-120 VAC, 2-125/250 VAC twist-lock convenience outlets

1 50 Amp service outlet

Main disconnect circuit breaker

Ground Rod
Dimensions
Height mast lowered: 7' 8 " (2.34 m)

Height mast raised: 25' 6" (7.8 m)

Length: 10' 4 " (3.25 m)

Width: 74" (187 cm)

Outrigger width: 12' 10" (3.91 m)

Wheels and tires: 15"

Domestic Shipping Weight

Total weight: 2503 lbs. (1036 kg) dry with four (4) light fixtures
Available Options
(All options may not be available in every configuration)
CAT C2.2 liquid-cooled diesel engine

Three-phase 20kW generator

RV and other alternative outlet configuration packages (contact Allmand for details)

High-pressure sodium lamps and ballasts

Sound attenuation package

70 US Gallon fuel tank

Saf-T-Visor™

Inside storage bracket for (4) SHO lamp fixtures

Allmand LSC100 Automatic Light Sequence Commander

Arctic package

CSA / Transport Canada Package