Lockout tags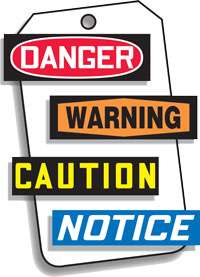 ,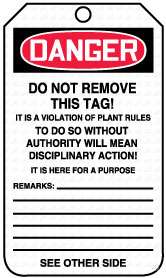 Header style tags meet the American National Standards Institute (ANSI Z535.5) and Occupational Safety and Health Administration (OSHA 29 CFR §1910.145(f)) requirements. These standards provide specifications, design, application, and use of accident prevention tags. Tags are to identify a temporary hazard until that hazard is eliminated or hazardous operation is complete. Available in packages of 25.
Material
Cardstock (CTP)
Heavy weight 13-point, economical, coated paper stock material. Printed both sides. Ideal for light-duty or temporary applications. 6 1/4" x 3 1/8" with patch-reinforced 3/8" hole.
Vinyl Plastic (RVTP)
15-mil rigid-vinyl that is durable, tear-resistant and water-proof. Ideal for dirt and grease environments. Surface printed.6" x 3 1/2" with 3/8" metal grommet hole.
Laminated Plastic (LTP)
A composite to be used in tough, abusive, dirty, and grease environments. The printed tag is heat and pressure sealed on both sides by thick rigid vinyl. Matte surface can be easily written on. 5 3/4" x 3 1/16" with a 3/8" metal grommet hole.
When placing your order, add the material abbreviation to the product code. CTP: Cardstock; RVTP: Vinyl Plastic; LTP: Laminated Plastic
Unit of Measure - 25 / pk
MDT112 + CTP (Cardstock) = MDT112 CTP
| | | | | | |
| --- | --- | --- | --- | --- | --- |
| | | | | | |
| | | | | | |
| | | | | | |
| | | | | | |