Inner Edge® Front Upper Three Lamp Series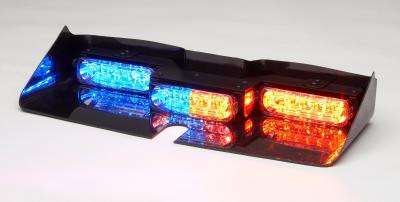 Three super bright Linear-LED modules in a smaller housing that fits snugly against the upper front windshield of late model Ford Crown Victoria police vehicles.
FEATURES
Available with three solid color, center mounted split red/blue module, center mount clear remote strobe or center mounted dual MR8 take-downs.
Model available with one single color and one California steady red with two MR8 take downs.
Virtually undetectable when not in operation.
Super-LEDs are low current, vibration and moisture resistant for reliable long life operation.
Easy installation to visor anchor points.
Scan-Lock provides multiple flash patterns.
Five-year warranty on LEDs.
SPECIFICATIONS
Size: 2-3/4" (71mm) H x 7-1/8" (181mm) W x 18" (46cm) L.