Flagger Station Light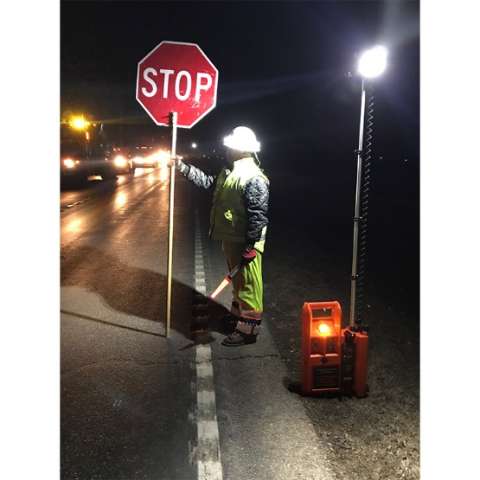 Portable bright light to illuminate flaggers for added safety
Flagger station & work area lighting with dual light that is brighter than ever. Portable area lighting with extended run time Safely illuminate ¬flagger or personal work area.
8 foot light elevation
Collapsible aluminum extension mast- cam lock adjustments with retractable cable
Lamp heads independently, directionally adjustable
Battery rated for 500+ charge cycles - push to test voltage meter
Charge with clamp style jumper cables - can jump start vehicle
DC Power Port to operate unit with external 12 VDC power or run other DC powered electrical devices
Yellow LED flasher on unit for added safety
Weatherproof case
Lifetime warranty on light heads
One-year replacement warranty on battery and charger
Internal Battery Specifications
12 VDC sealed 35 amp AGM lead acid battery
Built in 110-240 VAC, 50/60 Hz
UL approved 3 amp charge system
Safely stored/operated at -40ºF to 140ºF
Recommend continuous charging when light is not in use
if fully depleted, may require 24 hours to fully recharge
Light Head Specifications
IP-68 rated dustproof and waterproof
60º wide beam pattern
Anodized aluminum frame with a polycarbonate lens
Storage Dimensions: 26"H x 17"W x 8"D Weight: 44 lbs.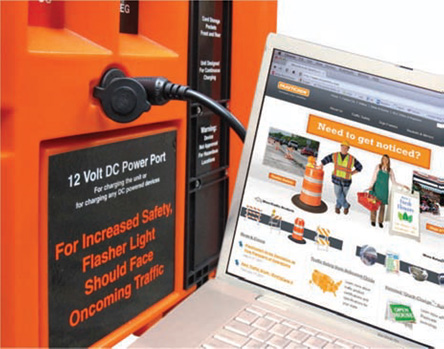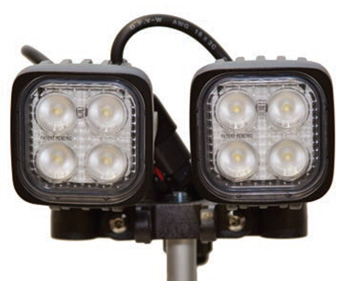 Dual LED light head
4,000 Total Lumens (2,000 each light head)
24 Watts, 2 amps, for the two heads
Full charge run time: 25+ hrs. to 14+ hrs. (with one or both lights on respectively)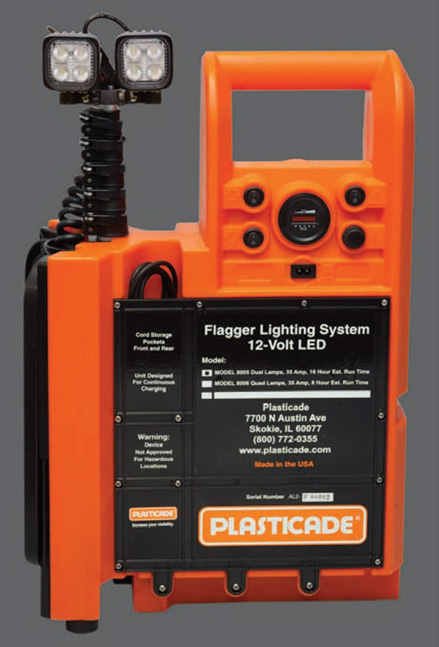 Leave a Reply