DynaLite 1000 Series Sign Stand (#DL1000 Series)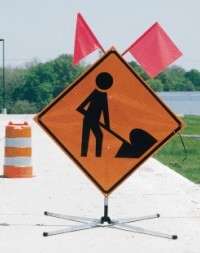 ,
NCHRP 350 compatibility- crash test results available.
Complies with MUTCD standardsLightweight - perfect for low wind applications.
Displays 36" and 48" signs using ScrewLock™ attachment.
By eliminating a spring mechanism, this stand weighs 20% less than Dynaflex™ stands.
Fast and easy deployment with the kick release system.
Legs lock into position when fully extended.
All aluminum and steel construction
Telescoping aluminum legs with two position height adjustment and anti-skid foot pads.
Leg extension length: 40" (1016 mm) (Longer legs available on request)
Open footprint: 71" x 45" (1802 mm x 1143 mm).
Minimum height from the ground to bottom of sign: 12" (305mm)
Four styles to choose from, see below:
DL1000W with the Screwlock™ sign holder.
DL1000L with the latch stlye sign holder.
DL1000P for signs outfitted with 1" sq. adapters.
DL1000A for signs outfitted with 3/4" sq. adapters.