Confined space equipment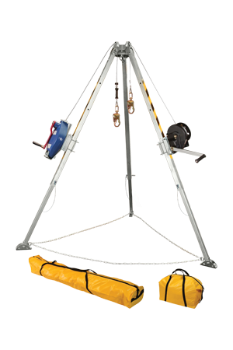 The FallTech Confined Space Tripod outperforms typical industrial systems by providing ease of setup, greater lifting range and integral pulleys that reduce risk of harm to the attendant. Combine this with the rest of the FallTech line up for a winning confined space system.
FallTech systems can come with two integral head mounted pulleys for multi-line entry, egress and rescue. This dual-pulley system significantly minimizes the need for an attendant to lean over openings and provide greater clearance while attempting rescue. We have various confined space systems with several tripods or a Davit System to choose from. You can get a kit system with all the 3-way retrieval, winch and accessories needed to install a complete system.
---