600 Series Super-LED® Lightheads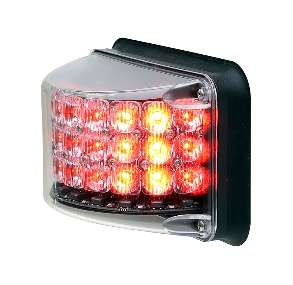 Mid-sized surface mount, wide angle LEDs with redesigned spreader optic lenses fill the lighthead evenly with light, rivaling strobe in intensity but with all the advantages of LED.
Surface Mount Rota-Beam™ Super-LED Rotating Lighthead with no motors, no moving parts.
600 Series Feature
LEDs are encapsulated for heavy-duty performance, vibration, moisture and corrosion resistance
Draws minimal current
Rated for thousands of hours of operation
14 flash patterns including steady burn
All lightheads are furnished with 6" pigtail
Super-LED® Scenelights Feature
12 diode models are comparable in intensity to existing halogen scenelights. •24 diode models compare to H.I.D. models.
Lower operating temperature.
600 Series use standard optional mounting flanges.
Conformal coated internal electronics.
LED lights do not emit ultra-violet radiation that attracts insects during night operation like H.I.D. lights do.
5 year warranty.
Optional chrome plated or black flanges 600 Series
Rota-Beam™ Series Feature
Super-LED rotating light with no moving parts and no motors.
100% solid state.
Surface mount.
180 degree horizontal light spread.
14 Scan-Lock flash patterns.
SAE Class 1 Certified.
Models with clear or color lenses.
Lenses are hard coated to resist scratches, salt or chemical damage and UV degradation.
Low current draw of 2.2 Amps.
Moisture and vibration resistant.
Optional Chrome or Black flanges
Five year warranty.
Super-LED Scenelights Specifications
6-1/2" Long x 4-1/8" High, Protrudes 1-7/16".
6-7/8" Long x 4-1/8" High, Protrudes 1-3/4" (surface mount).
No high voltage.
Super-LEDs are instant "On", no warm-up or high current voltage spikes on start up.
Rota-Beam rotating lighthead size:
4-3/16" (106mm) H x 6-9/16" (167mm) L x 3-7/16" D.