5G Series Super-LED® and LED Grommet Mount Lightheads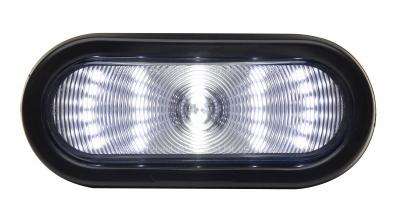 SAE J845 Class 1 Certified warning light is compatible with all competitive oval lights and fits all applicable industry horizontal or vertical mount accessories. Lightheads have Polycarbonate lens/housing and fully encapsulated electronics. High intensity LED design offers superior wide-angle visibility. Vinyl mounting grommet included and surface mounting is possible with optional flange. Lamp includes 6" integral wires, eliminating the need for a special adaptor plug as well as a potential corrosion point found on competitive products. Contact the factory for custom wire lengths and termination. 12 VDC. Five year HDP® Heavy-Duty Professional warranty.
FEATURES
All Warning Lights include:
Warning Lights exceed SAE J845 Class 1 minimum requirements.
Smart-LED® design features 15 Scan-Lock™ flash patterns (SignalAlert™ 75 FPM default).
Multiple lights can be synchronized or alternated using ULF28 (8-outlet), or ULF22 (2-outlet) electronic flashers.
All Brake/Tail/Turn Lights include:
Meets SAE brake/tail/turn lamp requirements for all vehicles including those that exceed 80" in overall width.
SignalAlert™ flash pattern: when brake circuit is activated, provides a 4-burst flicker before turning Steady On for a more eye-catching pattern.
Choose single Super-LED® design, minimum or maximum populated LED design.