Vulcan Barrier - Portable Steel Longitudinal Barrier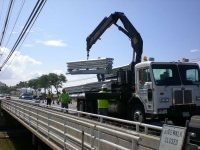 ,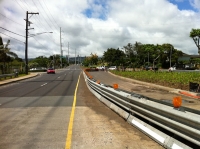 The Vulcan Barrier from Energy Absorption Systems is a portable steel longitudinal barrier that meets NCHRP 350 TL-3 and TL-4 and is EN1317 H2 and N2 compliant as a longitudinal redirecting barrier. It is available in effective lengths of four meters, eight meters and twelve meters. Vulcan Barrier uses a vertical steel pivot pin to interlink each module allowing the system to follow curves of up to six degrees per four meter segment. The Vulcan Barrier can be deployed as a free standing system and is designed to be used with a variety of end terminal options, such as the Triton CET System or QuadGuard CZ System.
NCHRP 350
Meets NCHRP 350 TL-3 & TL-4 test requirements as a longitudinal redirecting barrier
Lightweight stackable design reduces transport costs when compared to traditional concrete barrier
Can be used as its own median gate.
Four or twelve meter sections available.
Variety of end terminal options available (QuadGuard, Quest, TRACC, or ACZ 350)
Fast Deployment
Optional casters can be installed to simplify deployment and movement. The system can be deployed anchored or unanchored.
Installation
A Vulcan Barrier installation is constructed from a series of individual barrier sections. The ends of each section are easily pinned together. The pin securely joins the sections for maximum impact performance. The sections can swivel at the pin for easy positioning around work areas. The inwardly sloping ribbed side walls of the Vulcan Barrier interact with an impacting vehicle in a way that resists penetration, vaulting, and underriding. Sections are also stackable to reduce shipping and storage space. The Vulcan Barrier can be easily maneuvered using either a forklift or the optional integrated casters and jack.
Cost Effective
The lightweight and stackable design allows up to 160 meters to be transported on one truck, offering a huge transport savings when compared to to traditional concrete barriers.
Barrier Gate
The Vulcan Barrier can also be used as a simple median gate to allow traffic to be diverted for any reason.
Specifications
Typical 13' 6" (4m) long segments

39' (12m) segments also available

21.5" wide (546 mm)
32" high (813 mm)
1,020 lbs. (460 kg)
Catalog / Product Literature
: