TraffiCalm TC-Remote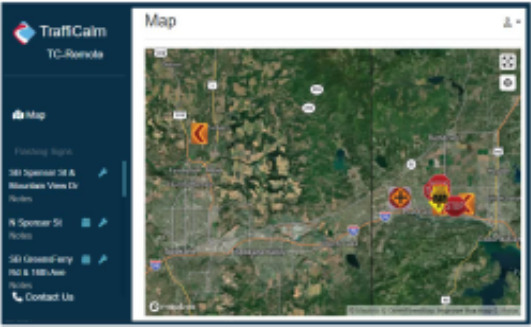 Web-based platform to remotely connect all TraffiCalm flashing signs and intelligent warning signs.

TC-REMOTE
TC-Remote allows agencies to remotely connect TraffiCalm® Flashing Sign Systems and Intelligent Warning Systems in one easy-to-manage web-based platform. This cloud-based Smart City platform delivers the right information to
leverage your maintenance resources and infrastructure investment.
System Health Monitoring and Alerts
Remote Calendar Scheduling
Downloadable Reports on number of Activations and System Status
Sign Knock down and System Failure Alerts via email and SMS texts
FEATURES
Map and Icon Based Graphical User Interface
Remotely monitor the status of every TraffiCalm® Flashing Sign System with an interactive graphicalmap and icons in a web-based software.
10-Year Cellular Data and Service Plan
No recurring data plans or contracts to manage for the planned life of the communication equipment.Guaranteed compatibility with remote communication devices and service for a 10-year period.
Hub-Based Communications System for Low-CostDeployment
TraffiCalm TC-Remote requires only one cellular modem to a controller and all other collaborativesystems within range will connect to the hub through on-board Mesh Net radio communication. Thissaves you money compared to other systems on the market that require a modem to each device.

---
STATUS OVERVIEW:


Monitoring Status includes: voltage input, solar voltage, system settings, schedule settings, communication strength, switch input settings, output settings, radar setting, and knock down sensors

SOFTWARE CONTROL OVERVIEW:


System Configuration, Output Control, Input Configuration, Radar Configuration, remote firmware upgrades

COMMUNICATION SYSTEM CONNECTIVITY:


Remote Communications Hub: Cellular CAT Ml Modem
Remote Communications Hub dimensions, minus controller: 4"x4"x2" [10.16 cm x 10.16 cm x 5.08 cm) Cellular - 700MHz - 2.3 GHz Verizon ESIM
Local Controller: Mesh Net, Wi-Fi
Mesh Net - 2.4GHz Direct Sequence Spread Spectrum [DSSS)
Wi-Fi - 2.4GHz 802.11 b/g/n wireless LAN

CONTROLLER/COLLABORATOR SYSTEM INPUTS/OUTPUTS


2 Switch Inputs - Push Button input, Presence Detection, High Water Sensor, Over-Height Detector, Ice Sensor input, etc.
1 Radar Input - 10' to 1200' Vehicle Detection Range
2 Switched Outputs - LED Flashing Sign Rings, Circular Beacons, Rectangular Rapid Flashing Beacons, etc. (3 outputs for Push-2-Cross systems) with Pulse-Width Modulation dimming
System Compatibility requires TraffiCalm" TC Remote compatible controllers and collaborators

ENVIRONMENTAL [FOR REMOTE COMMUNICATIONS HUB]:


Operating Temperature - Electronics -40° C to +60° C operating range (-40° F to + 140° F)
Humidity - 5-85% non-condensing
NEMA 4X, IPBB Rated

WARRANTY and SERVICE


5-year warranty on electronics
Unlimited tech support from US based factory technicians
Guaranteed compatibility of communications devices and modem for the life of the 10-year data plan.