TraffiCalm Rectangular Rapid Flashing Beacon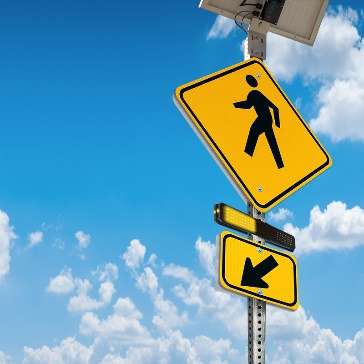 MUTCD compliant to can be combined with many options

TraffiCalm's SA328

Rectangular Rapid Flashing Beacon
Standard 20 groups of 4 Hi Intensity Amber LEDs for Redundancy and Uniform Light Distribution
Exceeds SAE J595 Class 1 Intensity
Meets SAE J578 for chromaticity
Each of the 80 LEDs that make up each SA328 RRFB have a built-in 15 degree UV resistant lens
Horizontal aiming adjustment
Side-mounted LEDs for a side visual confirmation
Dimensions: 24″ x 12″ x .85″
Can be combined with Push 2 Cross network with TC Connect to program on/off, flashing pattern, WiFi connectivity direct to your SignAlert controller

---
Guradian Wave Accessible Pedestrian System optional accessory to flashing beacons, Push 2 walk, and RRFB
The Guardian Independent Accessible Pedestrian System allows the user to access the TraffiCalm Push 2 Walk system without having to touch anything. The Covid-19 Pandemic has been a wake-up call for health and safety concerns across the globe. Campbell Company has developed touch-free options at the intersection to minimize the spread of germs and viruses and to keep pedestrians safer.
Guardian Wave™
Equipped with an active infrared sensor for no-contact actuation, pedestrians request to cross by waving a hand and showing intent to cross by holding hand 1 to 3 inches in front of the wave icon near the physical push button to 200 milliseconds. This safeguard protects the system from making an unwarranted call. With the physical push button still present and active, the Guardian Wave remains MUTCD compliant. No exclusivity or proprietary apps; the solution is available to all pedestrians.
Bump™
This add-on option utilizes our agency orientated Guardian Bluetooth® module for non-contact actuation. Bump™ utilizes the user friendly PedCross™ app and allows a pedestrian to request to cross the street by placing their NFC enabled mobile device near the Guardian Bluetooth® module. The Bluetooth® module also allows for secure agency configuration via the PedConnex™ App.
FEATURES
Data Collection
No Devices in Cabinet
USB Interface
Night Mode Volume
Sound Directionality
Simple and Straightforward Installation
Adjustable Station Angle
Configuration Templates
KEY BENEFITSS
Independent Locations
Independent Solution
Event Tracking Log
Ped Count/Call Data
Laptop Interface
Simple Menu Utility
NEMA TS 2 Certified

Meets MUTCD Guidelines
---