Night-Lite PRO II™ V Series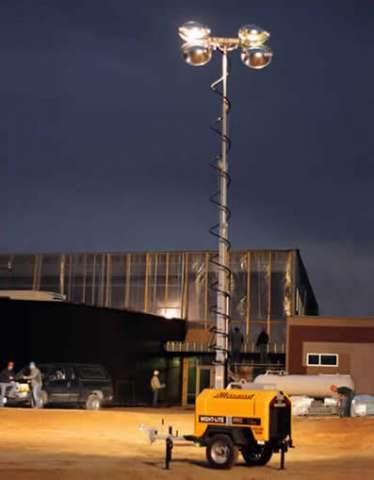 ,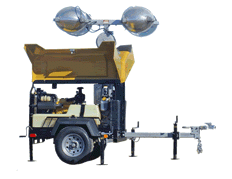 Engine (Standard)
Kohler KDW1003 (13.4 HP) - 7.5 kW generator

1800 rpm liquid-cooled diesel

12 volt electric start

Displacement: 62.7 cu. in. (1028 cc)

Alternator: 30 amp, 12-volt

Fuel: Diesel

Fuel consumption: .46 gal/hr (1.70 L/hr at 73% load)

Fuel capacity: 30 gallon

Oil sump capacity: 2.55 U.S. qt. (2.41 L)

Low oil pressure, high temperature automatic shutoff, glow plug cold start system
Tower:
25 ft. vertical six section tower

Tower cable encased in Nycoil™ flexible tubing eliminates tangling and stretching while protecting the mast wiring from cuts and abrasions.

Hydraulically actuated extension and retraction

UHMW plastic guide blocks for smooth operation

Intuitive lamp positioning allows fixtures to be accurately adjusted in retracted position before extending tower.

Only 20 seconds to raise or lower the tower!
Trailer
Frame: Formed, welded steel Heavy-duty enclosure with impact-resistant rust-proof molded poly "gull-wing" style access doors for full service access

Fenders: Dent and rust resistant rotational molded double-wall Adjustable height combination two inch ball coupler- three inch pintle towing hitch Stop / Turn / Tail Lights

Forklift pockets and tie-down rings

Environmentally-friendly full fluid containment system
Stabilizers
Four-point outrigger design

Tower center-mounted between two retractable side outriggers, rear jack and tongue jack

Remains operational in wind gusts up to 65 mph (104.59 kph)
Electrical
Generator: 7.5 or 8 kW alternator, 60 Hz, 1 phase

Circuits: Hard-wired electrical

Ballast: Easily serviceable, removable plug-in assemblies

120 Volt GFCI duplex convenience outlets Ground rod
Lighting
Lamps: Four (4) 1250 watt Metal Halide SHO-HD 5000 Watt Lighting System with best-in-class 150,000 initial lumens per lamp Dimensions

Height mast lowered: 7 ' 5" (2.25 m)

Height mast raised: 25 ' (7.94 m)

Length: 9'4 " (2.85 m)

Width: 4' 3" (1.3 m)

Outrigger width: 8 ' 4" (2.54 m)

Wheels and tires: 13"
Domestic Shipping Weight
Light fixtures: Each fixture 15 lbs. (6.75 kg), 60 lbs. (27 kg) for four (4)

Trailer and mast: 1740 lbs.

Total weight: Approx. 1800 lbs. with four (4) light fixtures
Available Options
240 VAC 30 A twist lock receptacle

CAT C1.1 (14.3 HP) - 8kW Generator

Kubota D1105 BG (13.6 HP) - 8kW Generator

Kubota D1005 BG (13.1 HP) - 7.5kW Generator