Glass Beads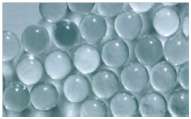 Retroreflective pavement markings deliver continuous roadway guidance to drivers and have been proven to increase highway safety.
Potters Standard Highway Marking Spheres provide cost-effective nighttime roadway delineation, and meet or exceed every standard in effect in the United States today.
Potters Standard spheres are highly durable and consistent in quality and composition. Strict quality control produces truly round spheres that optimize retroreflectivity. Proprietary coatings are available to resist agglomeration, ensure flotation for ideal embedment and improve adhesion for greater durability.
Standard spheres may be applied as a drop-on in all commercial binder materials, including waterborne paint, epoxy, polyester, thermoplastic, PMMA and polyurea.
To ensure optimum retroreflective performance and durability, the bead/binder system needs to be applied in the proper manner:
Apply the spheres immediately following the binder application.
Apply the spheres evenly over the width and length of the marking.
Embed the spheres to a level of 60%.
Apply Standard Highway Safety Marking Spheres at the rate of:

6–8 pounds per gallon of latex.
20–24 pounds per gallon of epoxy.
10–12 pounds per 100 square feet
of thermoplastic.
Typical Standard Bead Size
U.S. Mesh Size Millimeters Mass % Passing
20 0.850 100
30 0.600 75–95
50 0.300 15–35
100 0.150 0–5
AASHTO M-247, Type 1

Roundness—70%, 75%, and 80% overall by sieve size.