Safe-Hit Surface Mount Delineators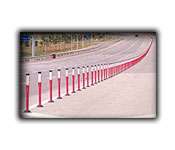 ,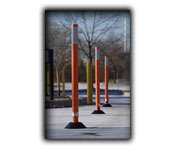 ,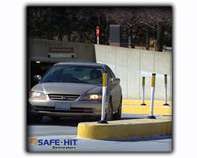 DURABLE AND FLEXIBLE FOR MULTI-PURPOSE USE
Safe-Hit's flexible posts are constructed of durable linear low density, co-extruded polyethylene with ultraviolet inhibitors. They are available with portable bases, surface mount bases or soil anchors. Safe-Hit posts feature a two piece, self-locking system that reduces installation and maintenance costs. The Safe-Hit Line is ideal for applications with average impact frequency.
Safe-Hit surface mount posts have many features and benefits valued by roadway professionals, including:
Delineating parking construction zones, centerline medians and H.O.V. lanes.
Bases that feature either pin-lock or twist-lock systems.
Posts that come in a variety of heights, shapes and colors to accommodate different reflective configurations.
Bases capable of being reused when installed with butyl. Epoxy is recommended for permanent applications.
Easy installation on asphalt or concrete.
Twist-lock feature allowing quick replacement, which reduces maintenance crew traffic exposure.
Typical applications include markers for:
Channelization
Culverts
Motorist aid call boxes
Median crossovers
Objects / hazards
Bridges
Gore points
Drains
Island ends
Surface mount and twist lock base assemblies, for installation of channelizers on asphalt or concrete, include:

SMA Standard surface mount base with locking pins for use where posts are permanently installed.
SLTSub-level twist lock base where it is desirable to have the base level with the concrete or asphalt surface. Highly recommended here foot traffic is present.
SSTSub-surface twist lock base where a low profile is desired due to vehicular or foot traffic.
SMT Twist lock base, for use where delineators or sign posts must be installed, removed and reinstalled periodically.
PSB Portable Base for temporary use of posts and signs.
*A plastic insert (removable plug) is also available for all bases to protect against dirt accumulation and to protect foot traffic when post is removed.
AVAILABLE SURFACE MOUNT ADHESIVES
SHEPX-25-CA
CASE EPOXY KITS (25
Units)
SHEPX-13-Kl
EPOXY KITS (For installing
one SIVIA/SIVIT Base)
SHEPX-14-Al
SHEPX-1 5-B1
EPOXY BULK One Gallon
Part A and One Gallon Part B (For installing
25 SIVIA/SIVIT Bases)
SHEPX-14-A5
SHEPX-15-B5
EPOXY BULK
Five
Gallons Part A and Five Gallons Part B (For
installing 125 SIVIA/SIVIT Bases)
SHBTL-21-CA
CASE BUTYL PADS (25
Units)
SHBTL-22-EA
BUTYL PAD (For Installing
one SMA/SMT Base)
Catalog / Product Literature
: