Latest Information
DBI-SALA Lad-Saf™ Sleeve Recall:

On 8/30/2016 Capital Safety/3M voluntarily recalled the original Lad-Saf™ sleeve and launched a program to replace the original sleeves with completely redesigned next generation X2 & X3 Lad-Saf sleeves.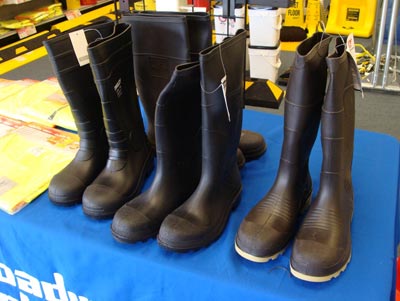 G P Roadway Solutions brings you the latest Information in roadway construction safety products:
Tingley work boots sale!
We feature these select items at huge markdowns off original pricing. As we try to make room for new stock, we are promoting these boots that were ordered as part of a quantity discount order. Take advantage of great clearance pricing! We have 5 styles of PVC Tingley boots both steel toe and general purpose boots. All steel toed boots are ASTM compliant. Buy it here and save $ without having to pay the mainland companies shipping!
"Pricing is for Oahu only"
Home
About Us
We are the most comprehensive roadway construction company in Hawaii. When you think of upkeep and construction of Hawaii's roadways, think of G P Roadway Solutions because we offer nearly all of it since 1978. Being a locally owned company we realize that in order to do business with Hawaii we needed to be there in person.We offer our services to the entire state of Hawaii with offices on Oahu, Hawaii, Maui & Kauai.
Our construction department installs a majority of the guardrails, road signs, traffic barriers and crash cushions in the state. Our group will also maintain, paint and repair roads and parking lots. Our sales department can help you with the latest in safety equipment and road construction products because we represent some of the best manufacturers in the country. The rentals division has helped countless road construction crews by directing traffic safely around construction sites and sports events using our cones, pedestrian and vehicle barriers. We also create a safe constructions site with trench shoring, steel plates and other large construction equipment you don't want to own yourself.
Events
Our rental crew at the start of the GAR ready to pick up the barricades & cones
Pleased to accept the 2017 safety award from General Contractors Association of Hawaii
National Work Zone Awareness Week April 3-7, 2017. An annual spring campaign held at the start of...