Latest Information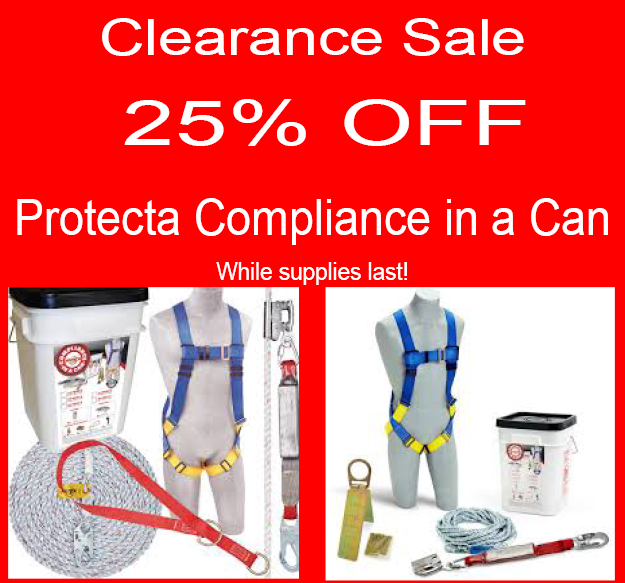 Get 25% off of the Compliance in a Can™ - Fall Protection Kit. Pioneered by Protecta®, the complete fall protection system is available in a convenient container. Each kit offers a complete set-up including
Reusable and extremely durable roof anchor with fasteners to attach to flat or sloped roofs OR 6 ft. pass-thru type tie-off adaptor.
Lightweight FIRST™ harness with pass-thru buckle legs and 5-point adjustment
Compact rope adjuster with built-in 2 ft. (0.6m) PRO™ shock absorbing lanyard lightweight system
Durable and lightweight 5/8" dia. (1.6cm) 50 ft. (15.2m) blended lifeline with snap hook
Durable bucket with a handle to store the system
The perfect solution to performance, value, and safety.
25% off promotion is available while supplies last.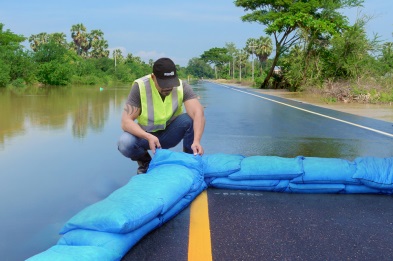 Ultra-Aqua Bags
Protect property against floods with light, small water barrier.
The Ultra-Aqua Bag is a revolutionary water barrier or sandless sandbag providing an effective solution for protecting property against floods, water heater leaks, broken pipes, overflowing toilets and other liquid emergencies. See more
Home
About Us
We are the most comprehensive roadway construction company in Hawaii. When you think of upkeep and construction of Hawaii's roadways, think of G P Roadway Solutions because we offer nearly all of it since 1978. Being a locally owned company we realize that in order to do business with Hawaii we needed to be there in person.We offer our services to the entire state of Hawaii with offices on Oahu, Hawaii, Maui & Kauai.
Our construction department installs a majority of the guardrails, road signs, traffic barriers and crash cushions in the state. Our group will also maintain, paint and repair roads and parking lots. Our sales department can help you with the latest in safety equipment and road construction products because we represent some of the best manufacturers in the country. The rentals division has helped countless road construction crews by directing traffic safely around construction sites and sports events using our cones, pedestrian and vehicle barriers. We also create a safe constructions site with trench shoring, steel plates and other large construction equipment you don't want to own yourself.